Problem solving takes on a whole new meaning at Barclays. So get ready to tackle global financial and tech challenges that will help us redefine the future of finance. You'll be part of a team that recodes and redefines. Learns and adapts. Never stops at one language and never settles for the first idea. At Barclays, we strive to embrace faster, smarter, more agile thinking – which will help you to develop quicker.
Game Changing Work
Our vision is to redefine the future of finance. If you're passionate about digital, you could help make our vision come true.
We've always been proud to make a difference. We have 48 million customers across the world who trust us to look after their finances and improve the way they manage their money. You'll optimise our investment in technologies to develop products and services that creatively deliver a better customer, client, and colleague experience.
We have a global presence, but our entrepreneurial spirit means we want to achieve more. You'll share our spirit to shape new developments in an ever-changing landscape and explore what happens next.
Inspiring people, world-class facilities
As a Developer you can collaborate with experts in everything from innovation, customer experience and mobile technology, global operations and data management, to finance and HR. It's a team that impacts our whole business. Join our world of opportunity, and you'll be learning from, and with, exceptionally talented colleagues.
We want the best ideas to thrive, so our facilities are tailored to collaborative working and great thinking. Managing more than 120 million customer transactions every day, our Operations and Technology centres are tech-enabled hubs.
In the UK, we're located in Northampton, Glasgow and Knutsford – our Knutsford campus, known as Radbroke, is home to 3,500 technical experts and one of the largest centres for information security in the UK. At our technology powerhouse in Prague, some of the most talented developers in the world are accessing the best technology to create new solutions. And our latest purpose-built campuses in Whippany, New Jersey and Pune, India champions an inspirational culture, fuelled by first-class facilities – a place where our colleagues can have world-class careers in a world-class environment.
Wherever you work, we'll support you in developing your mindset, your skills, and your career.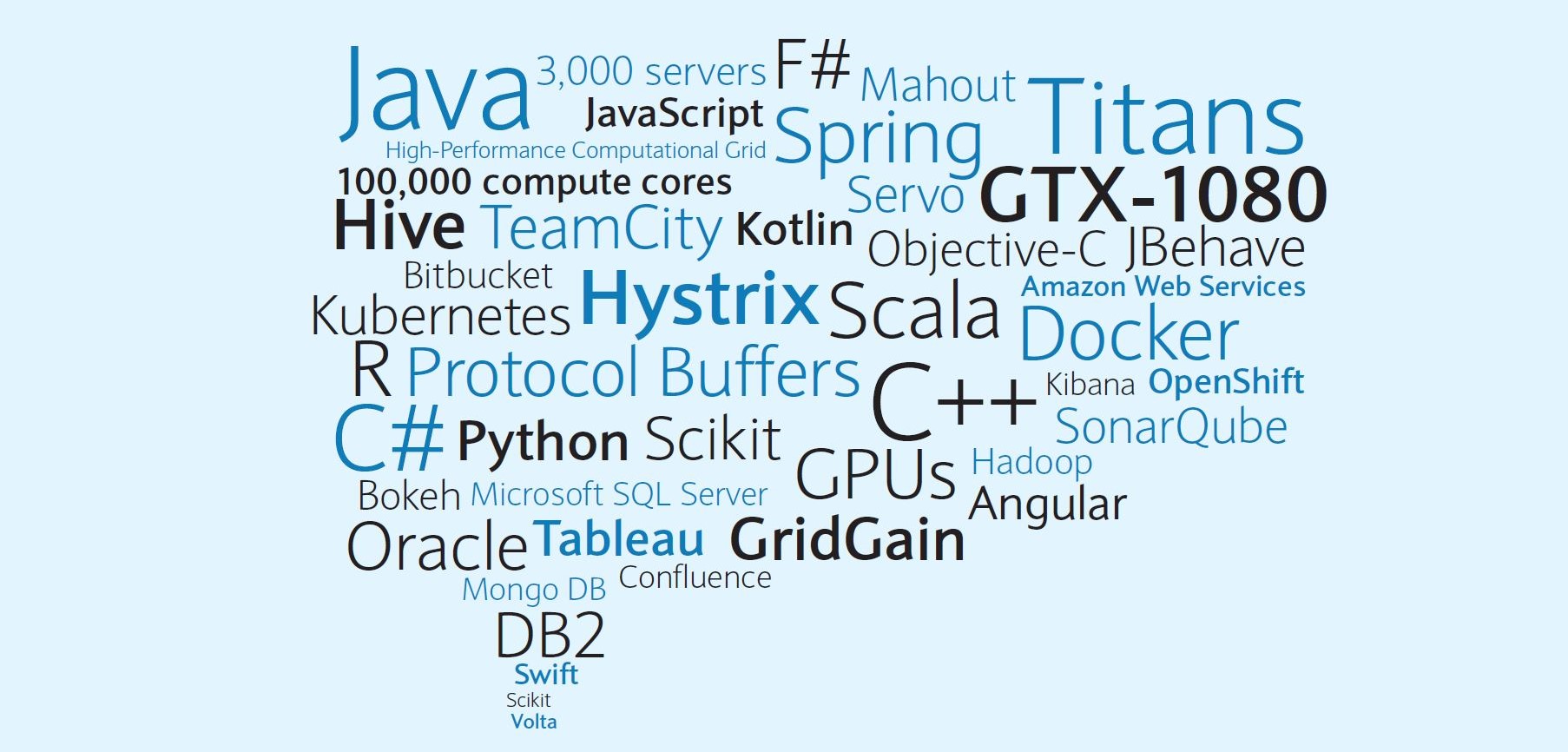 The skills redefining finance
We're looking for creative, curious people who love challenge and love to challenge. Commercial, customer-focused people who are agile and collaborative. People who can see the fine detail as well as the big picture. People who are excited by what we can offer, and by what they can do here. People who will redefine the future of finance.
Our developers use Java, Javascript, C#, C++ and a wide range of further languages, technologies and frameworks to keep Barclays at the forefront of digital banking, whilst keeping our systems resilient and secure.