Date live: 03/09/2020
Location: Northampton
Reference Code: 90254546
Business Area: COO & Functions
Area of Expertise: Technology
Contract: Permanent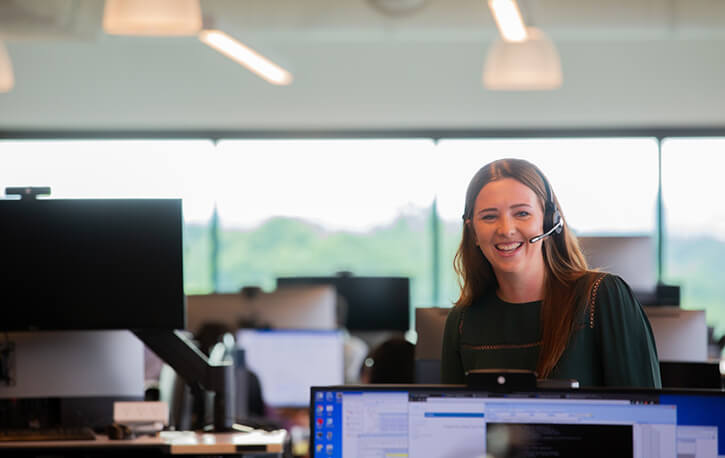 Barclays Technology
As a significant global financial organisation, we're fundamental to the way the world works and technology is crucial to our effectiveness. For us, technology is more than an investment, it's a way of life and permeates everything we do. That's why we can offer all the stretch and excitement you are looking for in your tech career.
Job Title Machine Learning SME
Location Northampton
The goal of Consumer Risk and Finance, Treasury and Liquidity team with CIO organisation is to ensure that we approach problems in a cross-functional manner and deliver sustainable solutions to support our data, technology and process transformations across Consumer Credit domain (BUK & BI). The business case and opportunity to simplify the Technology landscape, reduce the number of bespoke solutions, decommission legacy applications, harness our data to optimise the way the business utilises information is compelling and critical to the Firm's regulatory and internal strategic objectives.
What will you be doing?

• Requirement study for arriving at set of data attributes/elements for Model Building (MRDs).
• Data analysis, mining and derivation of Model Data attributes.
• Define, Design and implement Machine Learning Flow
• Build a knowledge base of the application within the organization.
• Inputs to the functional document creation.
• Create solution as per Barclays standards
• Socialise solution with relevant stakeholders
• Oversee detailed design, build & testing activities
• Reviews & Sign-Off by Model Owner and EDA
What we're looking for:

• Sound techno functional knowledge of Machine Learning and ML model implementation
• Sound knowledge and experience on ML Libraries (Python, DASK, LightGBM, SHAP, MMLSpark)
• Strong experience on Big Data and Hadoop Ecosystem
• Hands-on query tuning, optimization and rewriting to fetch humongous amount of data
Skills that will help you in the role:

• Credit Risk, Lending, Fraud Domain experience
• Hands-on Spark, Scala and R Language experience
• Ability to provide E2E solutions on Model Building, Training and Implementation
Where will you be working?

The Barclays Technology Campus, just outside Manchester, is our transatlantic tech command centre and one of the largest centres for information security in the UK. It's the vital strategic powerhouse behind our global operations. Radbroke is a place where big ideas become world-leading realities. Where the best talent in the world can build careers full of scope, variety and reward, by creating the technical solutions that meet today's demands, answer tomorrow's questions and redefine the future of finance.

Interested and want to know more about Barclays? Visit home.barclays/who-we-are/ for more details.
Our Values

Everything we do is shaped by the five values of Respect, Integrity, Service, Excellence and Stewardship. Our values inform the foundations of our relationships with customers and clients, but they also shape how we measure and reward the performance of our colleagues. Simply put, success is not just about what you achieve, but about how you achieve it.
Our Diversity

We aim to foster a culture where individuals of all backgrounds feel confident in bringing their whole selves to work, feel included and their talents are nurtured, empowering them to contribute fully to our vision and goals.
Our Benefits

Our customers are unique. The same goes for our colleagues. That's why at Barclays we offer a range of benefits, allowing every colleague to choose the best options for their personal circumstances. These include a competitive salary and pension, health care and all the tools, technology and support to help you become the very best you can be. We are proud of our dynamic working options for colleagues. If you have a need for flexibility then please discuss this with us.

Apply
See full job description
What you get in return
However high you rise at Barclays, we believe all our employees should receive a competitive package of core benefits flexible to you and your family's needs. At Barclays, you'll support our customers and clients, and we'll support you with rewards that will genuinely make a difference.
Competitive holiday allowance
Success profile
To be successful in Barclays Technology, there are a few things we look for. Creativity, curiosity, and an excitement of what we can offer, and what you can do here.
Languages and
Technologies
We are continually investing in the technology powering our business. This means rebuilding and reinventing our systems to make them fit for a world-class future. It means developing systems that help us support and protect the global economy. It means anticipating the future and taking Barclays forward as a technology-led business. We are building a team of the most perceptive and talented tech analysts, engineers and developers fluent in the most current languages to deliver all of this, and more.
Where do you want to take your tech career?
Financial services is going through a massive transformation, and here at Barclays we're leading the way. Our size, scale and significance mean we're fundamental to the way the world works, and technology is crucial to our effectiveness.
Size, stability, agility, ambition and impact. Find it all and more at Barclays Technology.
"I find that the work/life balance in my current role allows me to be more productive and flexible, to ensure my personal and professional 'lives' have the attention they need."
Patrick
Head of Client Management Application Support – Whippany, New Jersey
"Barclays technology has a crucial role to play and I have relished the opportunity to be involved in game-changing tech programmes."
Amy
Business Banking and BFA Chief Information Officer – Radbroke, Knutsford
"The great thing about Barclays is that I get to work on great technological pieces, while seeing the effect they have on this important business."
Martin
Electronic Trading Technology – Prague, Czech Republic
"Barclays' strong values of Service and Excellence are very much evident in the work we do. Our exciting tech solutions have improved customer and colleague experiences, and added huge value to the bank."
Ramya
Delivery Manager and Business Analyst – Pune, India
Back to Job Navigation (What our People Say)
More about working at Barclays
Wherever we are in Barclays, whatever we do, we are united and guided by one common purpose: creating opportunities to rise. Because we know that when we help our customers, clients, colleagues and society to rise, Barclays will rise with them.
Our values of Respect, Integrity, Service, Excellence and Stewardship are fundamental to who we are, and they really matter. They have always shaped the way we've done things, and they will always shape the way we work and live, now and in the future.
Barclays offers a diverse, inclusive and engaged culture. A place where people can bring their whole selves to work and be respected for who they are, valued for what they do and celebrated for their contribution to our business and our community.
We are an equal opportunity employer and opposed to discrimination on any grounds. It is the policy of Barclays to ensure equal employment opportunity without discrimination or harassment on the basis of race, colour, creed, religion, national origin, alienage or citizenship status, age, sex, sexual orientation, gender identity or expression, marital or domestic/civil partnership status, disability, veteran status, genetic information, or any other basis protected by law.
Dynamic Working is a flexible approach to working. Dynamic Working empowers each of us to work in a way that suits ours lives, so we can better serve our customers' and clients' needs. Whether you have family commitments or you're a carer; whether you need study time or 'me' time, Dynamic Working is designed to help you balance your life.