Barclays Technology
In Barclays Technology, we build solutions that make life simple for our customers. Solutions that are global, agile and smart. As a part of our team, you'll recode and reimagine, learn and adapt. Rewire what the world needs, and look ahead. This is where you can be at your best. Where you can redefine the future of finance.
Key information
Date live Apr. 26, 2021
Business Area COO & Functions
Area of Expertise Technology
Contract Permanent
Reference Code 90284986
Job description
Red Team Analyst
Remote Working 
As a Barclays Red Team Analyst you will perform wide adversarial threat emulation activities to aid in the assessment of control and process effectiveness against highly skilled sophisticated attacker(s). You will be a part of the team that operates across physical, people, process and technology in an effort to achieve well defined engagement goals and provide clarity on control effectiveness and gaps discovered along the attack path travelled across protect, monitor and response.
Barclays is one of the world's largest and most respected financial institutions, with 329 years of success, quality and innovation behind us. We've helped millions of individuals and businesses thrive, creating financial and digital solutions that the world now takes for granted. An important and growing presence in the USA, we offer careers providing endless opportunity.
What will you be doing?
•    Scoping and executing Red Team threat emulation activities against Barclays business units and the group as a whole
•    Ensuring safe, quality and realistic adversarial threat simulations are delivered (either remotely or on-site) in line with red team service offerings
•    Working with peer security technical teams to test and accelerate Barclays capabilities to secure its assets, environments and customers through threat centric collaboration
•    Leading, mentoring and developing peers within the Red Team and CSO, to push the capabilities and develop a class leading capability
•    Providing technical findings and executive reports which highlight and articulate identified strengths, gaps and opportunities the targeted audience can understand to action against
•    Establishing and maintaining strategic partnerships across the group, to develop a collaborative working environment through niche adversarial perspective of the team
•    Working with the Red Team director on operational execution and strategic development, by challenging assumptions, provision of solutions driving progress over perfection
•    Leading multi week/ month threat emulation activities, coordinating teams of up to six people
What we're looking for:
•    Experience in participating in multi week security assessments
•    Capability in defined security domain(s) expertise
•    Knowledge and experience of conducting testing in production enterprise environments
•    Ability to act and communicate professionally to audiences at all levels, whilst remaining consistent on messaging
Skills that will help you in the role:
•    Experience working in financial or other highly regulated organisational sector
•    OSCP certified with an experience/ training in adversarial threat simulations
•    Recognized industry qualifications
•    Python Development skills and Scripting skills/ Tools Development
Where will you be working?
In this opportunity, you can work from home.
Interested and want to know more about Barclays? Visit home.barclays/who-we-are/ for more details. 
About Barclays
Barclays is a British universal bank. We are diversified by business, by different types of customers and clients, and by geography. Our businesses include consumer banking and payments operations around the world, as well as a top-tier, full service, global corporate and investment bank, all of which are supported by our service company which provides technology, operations and functional services across the Group.
Our Values 
Everything we do is shaped by the five values of Respect, Integrity, Service, Excellence and Stewardship. Our values inform the foundations of our relationships with customers and clients, but they also shape how we measure and reward the performance of our colleagues. Simply put, success is not just about what you achieve, but about how you achieve it.
Our Diversity
We aim to foster a culture where individuals of all backgrounds feel confident in bringing their whole selves to work, feel included and their talents are nurtured, empowering them to contribute fully to our vision and goals.
Our Benefits
Our customers are unique. The same goes for our colleagues. That's why at Barclays we offer a range of benefits, allowing every colleague to choose the best options for their personal circumstances. These include a competitive salary and pension, health care and all the tools, technology and support to help you become the very best you can be. We are proud of our dynamic working options for colleagues. Where appropriate, and for UK based roles, we will consider requests that the role be based at alternative Barclays' key UK location from that advertised.

Read more
What you get in return
However high you rise at Barclays, we believe all our employees should receive a competitive package of core benefits flexible to you and your family's needs. At Barclays, you'll support our customers and clients, and we'll support you with rewards that will genuinely make a difference.
Competitive holiday allowance
Competitive pay
Life assurance
Income protection
Private medical care
Flexible working
Pension contribution
Voluntary benefits
Where will you be located?
Success profile
To be successful in Barclays Technology, there are a few things we look for. Creativity, curiosity, and an excitement of what we can offer, and what you can do here.
Our technology
We are continually investing in the technology powering our business. This means rebuilding and reinventing our systems to make them fit for a world-class future. It means developing systems that help us support and protect the global economy. It means anticipating the future and taking Barclays forward as a technology-led business. We are building a team of the most perceptive and talented tech analysts, engineers and developers fluent in the most current languages to deliver all of this, and more.
Where do you want to take your tech career?
Financial services is going through a massive transformation, and here at Barclays we're leading the way. People are our greatest asset. And that's why we give our colleagues the opportunity and space to explore their ideas, and innovate on a global scale.
Find out more about what our leaders think the Barclays workforce of the future will look like.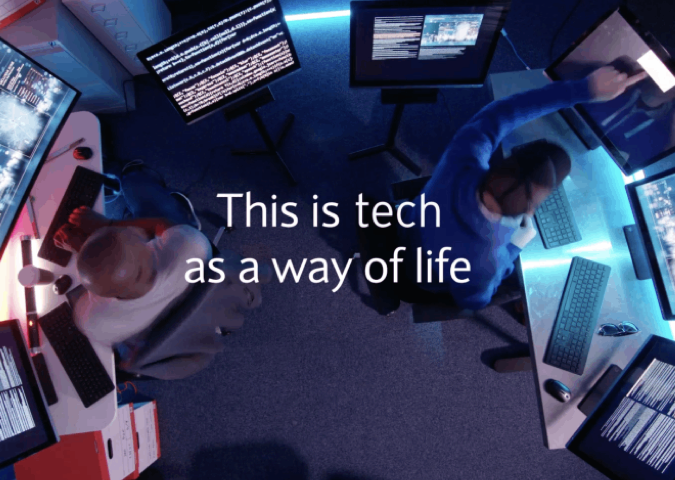 Play video
I find that the work/life balance in my current role allows me to be more productive and flexible, to ensure my personal and professional 'lives' have the attention they need.
Patrick
Head of Client Management Application Support – Whippany, New Jersey
Barclays technology has a crucial role to play and I have relished the opportunity to be involved in game-changing tech programmes.
Amy
Business Banking and BFA Chief Information Officer – Radbroke, Knutsford
The great thing about Barclays is that I get to work on great technological pieces, while seeing the effect they have on this important business.
Martin
Electronic Trading Technology – Prague, Czech Republic
Barclays' strong values of Service and Excellence are very much evident in the work we do. Our exciting tech solutions have improved customer and colleague experiences, and added huge value to the bank.
Ramya
Delivery Manager and Business Analyst – Pune, India
More about working at Barclays