Development and Engineering at Barclays
In Barclays Technology, we build solutions that make life simple for our customers. Solutions that are global, agile and smart. As a part of our team, you'll recode and reimagine, learn and adapt. Rewire what the world needs, and look ahead. This is where you can be at your best. Where you can redefine the future of finance.
Key information
Date live Aug. 24, 2021
Business Area COO & Functions
Area of Expertise Technology
Contract Permanent
Reference Code 90292383
Job description
Senior Java Developer – Connectivity
Glasgow

As a Barclays Senior Java Developer – Connectivity, you will help to develop Client and Exchange Connectivity applications for QPS and Cash Equities businesses. The Connectivity applications are built on a Java platform designed and developed to provide low-latency, high throughput processing of messages.
Barclays is one of the world's largest and most respected financial institutions, with 329 years of success, quality and innovation behind us. We offer careers that provide endless opportunity – helping millions of individuals and businesses thrive, and creating financial and digital solutions that the world now takes for granted.

What will you be doing?
• Developing solutions both tactical and strategic problems to meet business requirements
• Understanding requirements and helping the team to deliver high quality solutions
• Providing estimates for tasks, including design, development, technical debt, and testing
• Producing code that is appropriate for a low-latency java platform
• Participating in code reviews and architectural discussions
• Developing automated testing tools to exercise functionality, performance, and capacity of code
• Proposing solutions to complex problems that are in keeping with the existing system architecture
• Quickly delivering tactical fixes and simple changes where required
What we're looking for:
• Expertise of Core Java and/or C++
• Expertise of developing/running Java applications under Linux
• Previous experience mentoring junior team members
• Experience with systems providing trading, risk, middle office, or other finance services
Skills that will help you in the role
• Experience with network or platform engineering
• Experience with scripting: Bash, Perl, Python
• Knowledge of FIX, OUCH, Millennium or other financial protocols
• Experience with production support
Where will you be working?
We've been in Scotland for 250 years, and our significance has never been as important as it is today. You can find Aurora nestled in a fantastic central city location, a short walk from both Central and Charing Cross train stations, and not far from Sauchiehall Street and Argyll Street, two of the city's main shopping hubs. We're committed to giving everyone the opportunity to thrive at Barclays, investing in our people, communities, and facilities – highlighted by our new state-of-the-art campus opening soon in the city centre.
#LI-KA2021
Read more
What you get in return
However high you rise at Barclays, we believe all our employees should receive a competitive package of core benefits flexible to you and your family's needs. At Barclays, you'll support our customers and clients, and we'll support you with rewards that will genuinely make a difference.
Competitive holiday allowance
Competitive pay
Life assurance
Income protection
Private medical care
Flexible working
Pension contribution
Voluntary benefits
Where will you be located?
Success profile
To be successful in Barclays Technology, there are a few things we look for. Creativity, curiosity, and an excitement of what we can offer, and what you can do here.
Languages and Technologies
We really love to code. And we love to make that code work for our millions of global customers. Built in a way that makes life simpler. For you, that means reinventing what money means to the world. It means going that step further to develop something that can handle millions of trades or millions of transactions a day. It's a big responsibility. Are you ready to rethink your future?
Where do you want to take your tech career?
Financial services is going through a massive transformation, and here at Barclays we're leading the way. People are our greatest asset. And that's why we give our colleagues the opportunity and space to explore their ideas, and innovate on a global scale.
Find out more about what our leaders think the Barclays workforce of the future will look like.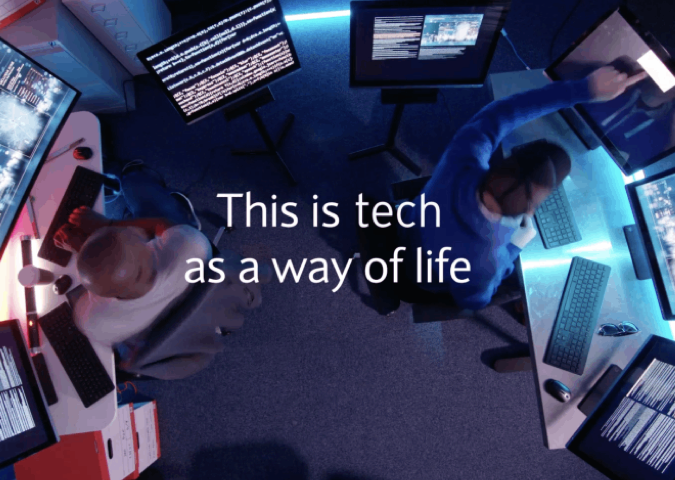 Play video
Working here makes me feel supported, valued, recognised, appreciated and has given me plenty of opportunities to grow.
Minal
ETL Developer in Market Risk, Glasgow
Barclays is a great place to work because the teams here have a very positive energy to them. There is a lot of camaraderie and team spirit here.
Niraj
Engineering Lead, Fraud Detection, Whippany
One of my favourite things about working for Barclays is the freedom to explore different technical solutions to a variety of problems. It's a great way of expanding my knowledge and keeps me on my toes!
Sara
Java Developer, Glasgow
I'm really pleased with the work I've done so far. Because Barclays relies on technology to provide services that are so important to millions of people, we value quality over quantity, especially in software design.
Dalibor
Wolf Team, Prague
More about working at Barclays