Date live: 01/06/2021
Location: New York
Reference Code: 90274589
Business Area: COO & Functions
Area of Expertise: Technology
Contract: Permanent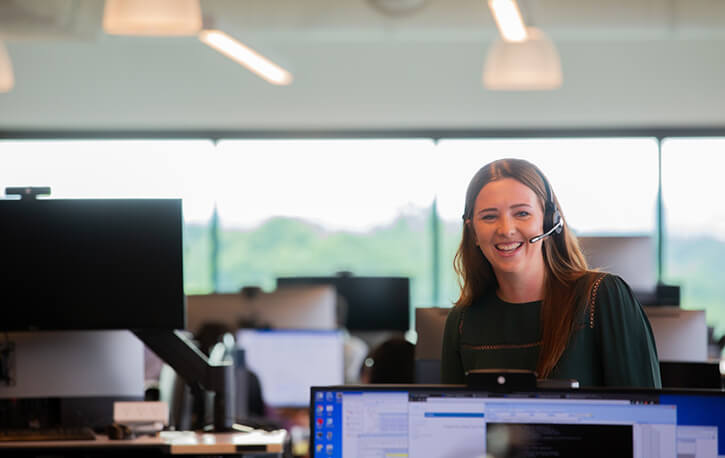 Barclays Technology
As a significant global financial organisation, we're fundamental to the way the world works and technology is crucial to our effectiveness. For us, technology is more than an investment, it's a way of life and permeates everything we do. That's why we can offer all the stretch and excitement you are looking for in your tech career.
Senior Technology Lead
Whippany, NJ
As a Barclays Technology Lead, you will oversee all the development and delivery of strategic CRM aspects for Banking CRM. You will oversee CRM projects that will predominantly be on the salesforce.com platform. Your role will also consist of managing a development team, working with business stakeholders, internal PM/BA team, testers, and other technology teams to ensure on time and successful delivery of the CRM roadmap.
Barclays is one of the world's largest and most respected financial institutions, with 329 years of success, quality and innovation behind us. We've helped millions of individuals and businesses thrive, creating financial and digital solutions that the world now takes for granted. An important and growing presence in the USA, we offer careers providing endless opportunity.
What will you be doing?
Managing and delivering CRM projects and roadmap
Building and managing the CRM team of about 10 developers
Working with Project Managers/Business Analysts, Testing and Support teams to define, deliver and maintain solutions
Interfacing with cross-functional IT teams for CRM integration

Leading Architecture and design discussions for CRM systems

Building and maintaining relationship with key stakeholders within technology and business

Participating and taking leadership roles in driving various IT initiatives (DevOps, Cloud Migration, Obsolence, etc.)
What we're looking for:
12+ years of programming, architectural & managerial experience ideally in top Investment Banking/Financial/Consulting space

Experience managing development teams and working in a globally distributed environment

12+ years of overall experience in software development using various programming languages like JAVA, .NET, HTML, JavaScript etc.

8+ years of experience in building out CRM applications for top Investment Bank with experience of vendor platform like SalesForce
Skills that will help you in the role:
Experience with Salesforce.com

Good communication skills to interface with various technology teams and business stakeholders

Proven track record of successfully architecting and executing large software and delivering on time in top tier Investment Banking

Deep understanding of SDLC and software application development.
Where will you be working?
At Barclays, we are proud to be redefining the future of finance and here at Whippany we are defining the future of the workplace and the future of the way we work and live. We are creating a unique community, one of four strategic tech-enabled hubs that will redefine opportunity for everyone who works here. Whatever you do at Whippany, you'll have every chance to build a world-class career in this world-class environment.
Apply
See full job description
What you get in return
However high you rise at Barclays, we believe all our employees should receive a competitive package of core benefits flexible to you and your family's needs. At Barclays, you'll support our customers and clients, and we'll support you with rewards that will genuinely make a difference.
Competitive holiday allowance
Success profile
To be successful in Barclays Technology, there are a few things we look for. Creativity, curiosity, and an excitement of what we can offer, and what you can do here.
Languages and
Technologies
We are continually investing in the technology powering our business. This means rebuilding and reinventing our systems to make them fit for a world-class future. It means developing systems that help us support and protect the global economy. It means anticipating the future and taking Barclays forward as a technology-led business. We are building a team of the most perceptive and talented tech analysts, engineers and developers fluent in the most current languages to deliver all of this, and more.
Where do you want to take your tech career?
Financial services is going through a massive transformation, and here at Barclays we're leading the way. Our size, scale and significance mean we're fundamental to the way the world works, and technology is crucial to our effectiveness.
Size, stability, agility, ambition and impact. Find it all and more at Barclays Technology.
"I find that the work/life balance in my current role allows me to be more productive and flexible, to ensure my personal and professional 'lives' have the attention they need."
Patrick
Head of Client Management Application Support – Whippany, New Jersey
"Barclays technology has a crucial role to play and I have relished the opportunity to be involved in game-changing tech programmes."
Amy
Business Banking and BFA Chief Information Officer – Radbroke, Knutsford
"The great thing about Barclays is that I get to work on great technological pieces, while seeing the effect they have on this important business."
Martin
Electronic Trading Technology – Prague, Czech Republic
"Barclays' strong values of Service and Excellence are very much evident in the work we do. Our exciting tech solutions have improved customer and colleague experiences, and added huge value to the bank."
Ramya
Delivery Manager and Business Analyst – Pune, India
Back to Job Navigation (What our People Say)
More about working at Barclays
Barclays offers corporate and investment banking and credit card services in the US. Our 10,000 US colleagues are located in offices across the country, with headquarters in New York City, a world-class campus in Whippany, New Jersey hosting our Technology and Functional Teams, and sites in Nevada and Delaware supporting our contact center operations.
We deploy finance responsibly to support people and businesses, acting with empathy and integrity, championing innovation and sustainability, for the common good and the long term.
Respect: We harness the power of diversity and inclusion in our business, trust those we work with, and value everyone's contribution.
Integrity: We operate with honesty, transparency and fairness in all we do.
Service: We act with empathy and humility, putting the people and businesses we serve at the centre of what we do.
Excellence: We champion innovation, and use our energy, expertise and resources to make a positive difference.
Stewardship: We prize sustainability, and are passionate about leaving things better than we found them.
Barclays offers a diverse, inclusive and engaged culture. A place where people can bring their whole selves to work and be respected for who they are, valued for what they do and celebrated for their contribution to our business and our community.
We are an equal opportunity employer and opposed to discrimination on any grounds. It is the policy of Barclays to ensure equal employment opportunity without discrimination or harassment on the basis of race, colour, creed, religion, national origin, alienage or citizenship status, age, sex, sexual orientation, gender identity or expression, marital or domestic/civil partnership status, disability, veteran status, genetic information, or any other basis protected by law.
Dynamic Working is a flexible approach to working. Dynamic Working empowers each of us to work in a way that suits ours lives, so we can better serve our customers' and clients' needs. Whether you have family commitments or you're a carer; whether you need study time or 'me' time, Dynamic Working is designed to help you balance your life.