Barclays Technology
In Barclays Technology, we build solutions that make life simple for our customers. Solutions that are global, agile and smart. As a part of our team, you'll recode and reimagine, learn and adapt. Rewire what the world needs, and look ahead. This is where you can be at your best. Where you can redefine the future of finance.
Key information
Date live Nov. 24, 2021
Business Area COO & Functions
Area of Expertise Technology
Contract Permanent
Reference Code 90303384
Job description
Business Analyst
Prague

As a Barclays Business Analyst you will provide enhancements to the strategic on demand pricing platform, coordinate BAU changes, and support the end users for day-to-day business requirements. You will acquire a broad understanding of all aspects of stack and be confident and able to work independently and autonomously on business critical issues.

Barclays is one of the world's largest and most respected financial institutions, with 329 years of success, quality and innovation behind us. We offer careers that provide endless opportunity – helping millions of individuals and businesses thrive, and creating financial and digital solutions that the world now takes for granted.

What will you be doing?
• You will work directly with front office trading desk, risk managers and product controllers from gathering requirements to delivery of projects
• You will collaborate with quantitative analytics team in the roll-out of new products, models, risk and PNL enhancements
• Liaising with quants, risk management, product control and other downstream stakeholders to gather requirements and agree test strategies for all change requests
• Investigating and explain any risk and PNL queries from trading/market risk/product controllers
• Partnering with other IT teams for trade booking, risk reporting, market risk and finance in driving the change from front-to-back
• You will ensure documentation and communication of changes
• Day to day support of the end users
• Coordinating User Acceptance Testing and releases to Public Data Network

What we're looking for:
• Experience working in a finance or relevant degree in business/economics with exposure to financial products
• Strong verbal and written communication skills
• Understanding of Fixed Income products: Bonds, IRSwaps, Futures etc
• Strong Excel skills with some VBA experience

Skills that will help you in the role:
• Understanding of PnL principals – e.g. first order Taylor expansion predicts for Delta/Vega 
• Strong understanding of FI derivatives with an understanding of derivative pricing and risk methodologies
• Understanding of Investment Banking financial concepts. Option pricing knowledge for FX and Rates including concepts such as Black-Scholes, the Greeks and hedging strategies.
• Experience working in Agile environment

Where will you be working?
Our Prague office is based in the financial centre of Prague. We are part of the Operations and Technology Division, and as such, we try our best to stay at the top of our technological game. However, the technology itself is not the most important thing. What matters the most to us is the way our ingenuity can help provide better service to our customers and make life easier for our employees.



#LI-AC21
Read more
What you get in return
However high you rise at Barclays, we believe all our employees should receive a competitive package of core benefits flexible to you and your family's needs. At Barclays, you'll support our customers and clients, and we'll support you with rewards that will genuinely make a difference.
Competitive holiday allowance
Competitive pay
Life assurance
Income protection
Private medical care
Flexible working
Pension contribution
Voluntary benefits
Where will you be located?
Success profile
To be successful in Barclays Technology, there are a few things we look for. Creativity, curiosity, and an excitement of what we can offer, and what you can do here.
Our technology
We are continually investing in the technology powering our business. This means rebuilding and reinventing our systems to make them fit for a world-class future. It means developing systems that help us support and protect the global economy. It means anticipating the future and taking Barclays forward as a technology-led business. We are building a team of the most perceptive and talented tech analysts, engineers and developers fluent in the most current languages to deliver all of this, and more.
Where do you want to take your tech career?
Financial services is going through a massive transformation, and here at Barclays we're leading the way. People are our greatest asset. And that's why we give our colleagues the opportunity and space to explore their ideas, and innovate on a global scale.
Find out more about what our leaders think the Barclays workforce of the future will look like.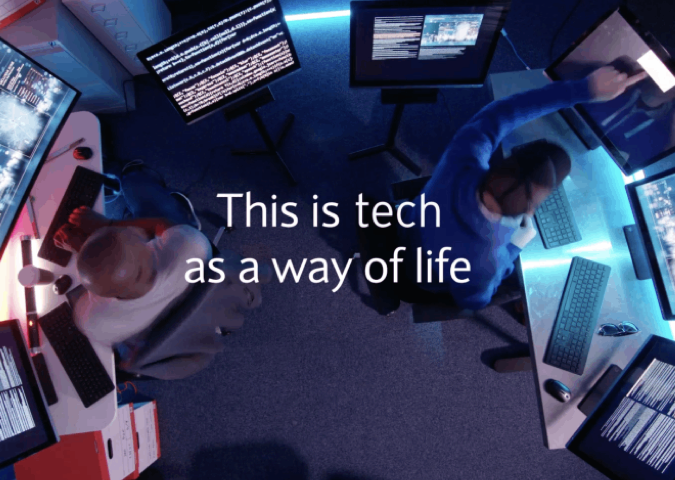 Play video
I find that the work/life balance in my current role allows me to be more productive and flexible, to ensure my personal and professional 'lives' have the attention they need.
Patrick
Head of Client Management Application Support – Whippany, New Jersey
Barclays technology has a crucial role to play and I have relished the opportunity to be involved in game-changing tech programmes.
Amy
Business Banking and BFA Chief Information Officer – Radbroke, Knutsford
The great thing about Barclays is that I get to work on great technological pieces, while seeing the effect they have on this important business.
Martin
Electronic Trading Technology – Prague, Czech Republic
Barclays' strong values of Service and Excellence are very much evident in the work we do. Our exciting tech solutions have improved customer and colleague experiences, and added huge value to the bank.
Ramya
Delivery Manager and Business Analyst – Pune, India
More about working at Barclays