Date live: 04/29/2021
Location: Prague
Reference Code: 90284296
Business Area: COO & Functions
Area of Expertise: Technology
Contract: Permanent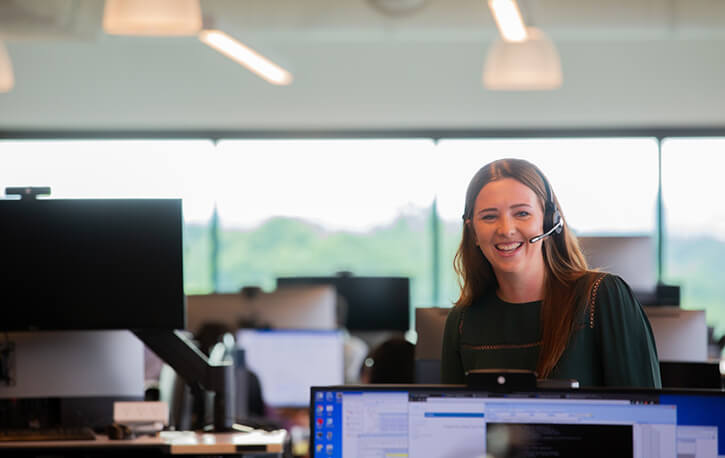 Barclays Technology
As a significant global financial organisation, we're fundamental to the way the world works and technology is crucial to our effectiveness. For us, technology is more than an investment, it's a way of life and permeates everything we do. That's why we can offer all the stretch and excitement you are looking for in your tech career.
Release Coordinator 
Prague
As a Barclays Release Coordinator you will be responsible for release planning, which will involve scheduling and deployment into non-production environments. You will be working closely with infrastructure teams to keep environments and applications running on them, stable and in high quality. To successfully do so, you will be running impact analysis for releases for the successful coordination of releases into production environment.

Barclays is one of the world's largest and most respected financial institutions, with 329 years of success, quality and innovation behind us. We offer careers that provide endless opportunity – helping millions of individuals and businesses thrive, and creating financial and digital solutions that the world now takes for granted.

What will you be doing?
•    Release planning, ensure successful deployment, impact analysis for releases, negotiate for SLA if there is any vendor involvement, source code version control, roll back planning
•    Preparing release notes, ensure change management signoff
•    Controlling release of software into production environment 
•    Preparation of release plans, collecting test evidence and post-implementation checkout plans
•    Liaising with development to understand impact of changes
•    Coordinating the resources from various support teams to assist with release 
•    Notify business and other IT teams of impact of release and liaise with them to obtain UAT sign-off
•    Providing notification to business and IT teams on progress of release 

What we're looking for:
•    Good knowledge of Windows OS
•    Excellent communication and problem solving skills
•    Ability to learn new tools, e.g. obtain knowledge of source code control systems, continuous integration tools, deployment tools
•    Awareness about ITIL process (change management)

Skills that will help you in the role:
•    Experience with relational database systems (preferably MSSQL, Oracle)
•    Unix OS knowledge 
•    Degree educated
•    Awareness about ITIL process (change management)

Where will you be working?
Our Prague office is based in the financial centre of Prague.  We are part of the Operations and Technology Division, and as such, we try our best to stay at the top of our technological game. However, the technology itself is not the most important thing. What matters the most to us is the way our ingenuity can help provide better service to our customers and make life easier for our employees.
Apply
See full job description
What you get in return
However high you rise at Barclays, we believe all our employees should receive a competitive package of core benefits flexible to you and your family's needs. At Barclays, you'll support our customers and clients, and we'll support you with rewards that will genuinely make a difference.
Competitive holiday allowance
Success profile
To be successful in Barclays Technology, there are a few things we look for. Creativity, curiosity, and an excitement of what we can offer, and what you can do here.
Languages and
Technologies
We are continually investing in the technology powering our business. This means rebuilding and reinventing our systems to make them fit for a world-class future. It means developing systems that help us support and protect the global economy. It means anticipating the future and taking Barclays forward as a technology-led business. We are building a team of the most perceptive and talented tech analysts, engineers and developers fluent in the most current languages to deliver all of this, and more.
Where do you want to take your tech career?
Financial services is going through a massive transformation, and here at Barclays we're leading the way. Our size, scale and significance mean we're fundamental to the way the world works, and technology is crucial to our effectiveness.
Size, stability, agility, ambition and impact. Find it all and more at Barclays Technology.
"I find that the work/life balance in my current role allows me to be more productive and flexible, to ensure my personal and professional 'lives' have the attention they need."
Patrick
Head of Client Management Application Support – Whippany, New Jersey
"Barclays technology has a crucial role to play and I have relished the opportunity to be involved in game-changing tech programmes."
Amy
Business Banking and BFA Chief Information Officer – Radbroke, Knutsford
"The great thing about Barclays is that I get to work on great technological pieces, while seeing the effect they have on this important business."
Martin
Electronic Trading Technology – Prague, Czech Republic
"Barclays' strong values of Service and Excellence are very much evident in the work we do. Our exciting tech solutions have improved customer and colleague experiences, and added huge value to the bank."
Ramya
Delivery Manager and Business Analyst – Pune, India
Back to Job Navigation (What our People Say)
More about working at Barclays
We deploy finance responsibly to support people and businesses, acting with empathy and integrity, championing innovation and sustainability, for the common good and the long term.
Respect: We harness the power of diversity and inclusion in our business, trust those we work with, and value everyone's contribution.
Integrity: We operate with honesty, transparency and fairness in all we do.
Service: We act with empathy and humility, putting the people and businesses we serve at the centre of what we do.
Excellence: We champion innovation, and use our energy, expertise and resources to make a positive difference.
Stewardship: We prize sustainability, and are passionate about leaving things better than we found them.
Barclays offers a diverse, inclusive and engaged culture. A place where people can bring their whole selves to work and be respected for who they are, valued for what they do and celebrated for their contribution to our business and our community.
We are an equal opportunity employer and opposed to discrimination on any grounds. It is the policy of Barclays to ensure equal employment opportunity without discrimination or harassment on the basis of race, colour, creed, religion, national origin, alienage or citizenship status, age, sex, sexual orientation, gender identity or expression, marital or domestic/civil partnership status, disability, veteran status, genetic information, or any other basis protected by law.
Dynamic Working is a flexible approach to working. Dynamic Working empowers each of us to work in a way that suits ours lives, so we can better serve our customers' and clients' needs. Whether you have family commitments or you're a carer; whether you need study time or 'me' time, Dynamic Working is designed to help you balance your life.