Key information
Date live Jun. 11, 2021
Business Area COO & Functions
Area of Expertise Technology
Contract Permanent
Reference Code 90290025
Barclays Technology
In Barclays Technology, we build solutions that make life simple for our customers. Solutions that are global, agile and smart. As a part of our team, you'll recode and reimagine, learn and adapt. Rewire what the world needs, and look ahead. This is where you can be at your best. Where you can redefine the future of finance.
Job description
Job Title: Technical lead
Location: Pune
About Barclays
Barclays is a British universal bank. We are diversified by business, by different types of customers and clients, and by geography. Our businesses include consumer banking and payments operations around the world, as well as a top-tier, full service, global corporate and investment bank, all of which are supported by our service company which provides technology, operations and functional services across the Group.
Risk and Control Objective
Ensure that all activities and duties are carried out in full compliance with regulatory requirements, Enterprise Wide Risk Management Framework and internal Barclays Policies and Policy Standards.
Dynamic Working
Our dynamic working programme has been set up to help Barclays colleagues achieve an optimal work/life balance. Arrangements we offer range from working at home and changing regular hours to taking career breaks. Our Dynamic Working initiatives support colleagues at all stages of their lives, helping them with parenthood, caring, further studies and hobbies
Dynamic working gives everyone at Barclays the opportunity to integrate professional and personal lives. If you have a need for flexibility, then please discuss this with the Hiring Manager.
Understand the designs and work on implementation

Help team members with coding

Able to peer review codes

Improve process related to local environment creation

Bring innovative ideas to solve technical challenges
What will you be doing?
Collaborate and communicate with other developers to build efficient technical solutions.

Understand requirements and Low level Design

Understand and Adhere to coding standards already laid out

Should be able to code based on low level designs

Good understanding of a developers responsibility in team development environment

Knows to write and execute unit test cases
What we're looking for:
End-to-end software development lifecycle

Software development methodologies, e.g. waterfall, agile

Awareness of leading-edge tools, techniques and services within IT

Software development consisting of some of the following languages and technologies:

Using HTML 5, Javascript, CSS

Jquery, Lodash

Angular framework, Responsive grid framework, Twitter bootstrap.

SASS, Less

Grunt, Gulp, webpack

Node js

Jasmine, Protector

Java, JSP, Struts 2

Application servers (Tomcat, Apache, NGINX)

Version Control Software (SVN / CVS / Git/ Gerrit)

web services / rest architecture

OO Programming, Functional Programming, Design and associated concepts. Coupled with strong experience of JavaScript & frameworks / libraries  - (e.g. Angular x, React), Node.js

Version Control Software & code management

Jira, Confluence, Jenkins
Skills that will help you in the role:
Where will you be working?
Pune
Be More at Barclays
At Barclays, each day is about being more – as a professional, and as a person. 'Be More @ Barclays' represents our core promise to all current and future employees. It's the characteristic that we want to be associated with as an employer, and at the heart of every employee experience. We empower our colleagues to Be More Globally Connected, working on international projects that improve the way millions of customers handle their finances. Be More Inspired by working alongside the most talented people in the industry, and delivering imaginative new solutions that are redefining the future of finance. Be More Impactful by having the opportunity to work on cutting-edge projects, and Be More Valued for who you are.
Interested and want to know more about Barclays? Visit home.barclays/who-we-are/ for more details.
Our Values
Purpose and Values
We deploy finance responsibly to support people and businesses, acting with empathy and integrity, championing innovation and sustainability, for the common good and the long term.
Our values underpin everything we do: Respect, Integrity, Service, Excellence and Stewardship.
Respect
We harness the power of diversity and inclusion in our business, trust those we work with, and value everyone's contribution.
Integrity
We operate with honesty, transparency and fairness in all we do.
Service
We act with empathy and humility, putting the people and businesses we serve at the centre of what we do.
Excellence
We champion innovation, and use our energy, expertise and resources to make a positive difference.
Stewardship
We prize sustainability, and are passionate about leaving things better than we found them.
Our Diversity
We aim to foster a culture where individuals of all backgrounds feel confident in bringing their whole selves to work, feel included and their talents are nurtured, empowering them to contribute fully to our vision and goals.
Our Benefits
Our customers are unique. The same goes for our colleagues. That's why at Barclays we offer a range of benefits, allowing every colleague to choose the best options for their personal circumstances. These include a competitive salary and pension, health care and all the tools, technology and support to help you become the very best you can be. We are proud of our dynamic working options for colleagues. If you have a need for flexibility, then please discuss this with us.
Read more
Success profile
To be successful in Barclays Technology, there are a few things we look for. Creativity, curiosity, and an excitement of what we can offer, and what you can do here.
Our technology
We are continually investing in the technology powering our business. This means rebuilding and reinventing our systems to make them fit for a world-class future. It means developing systems that help us support and protect the global economy. It means anticipating the future and taking Barclays forward as a technology-led business. We are building a team of the most perceptive and talented tech analysts, engineers and developers fluent in the most current languages to deliver all of this, and more.
Where do you want to take your tech career?
Financial services is going through a massive transformation, and here at Barclays we're leading the way. People are our greatest asset. And that's why we give our colleagues the opportunity and space to explore their ideas, and innovate on a global scale.
Find out more about what our leaders think the Barclays workforce of the future will look like.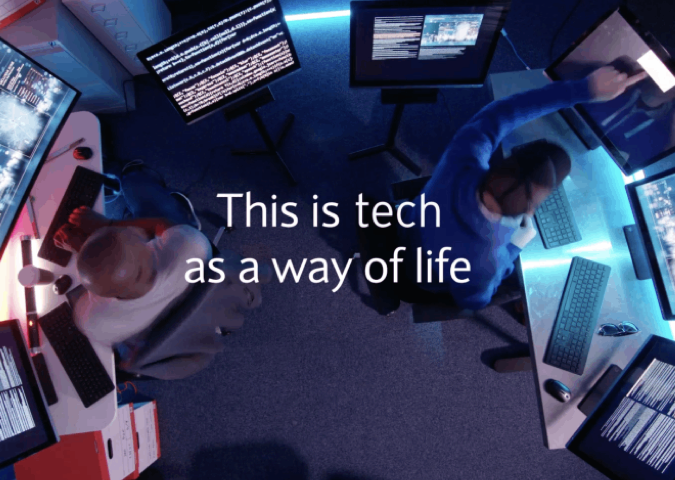 Play video
What you get in return
However high you rise at Barclays, we believe all our employees should receive a competitive package of core benefits flexible to you and your family's needs. At Barclays, you'll support our customers and clients, and we'll support you with rewards that will genuinely make a difference.
Competitive holiday allowance
Competitive pay
Life assurance
Income protection
Private medical care
Flexible working
Pension contribution
Voluntary benefits
I find that the work/life balance in my current role allows me to be more productive and flexible, to ensure my personal and professional 'lives' have the attention they need.
Patrick
Head of Client Management Application Support – Whippany, New Jersey
Barclays technology has a crucial role to play and I have relished the opportunity to be involved in game-changing tech programmes.
Amy
Business Banking and BFA Chief Information Officer – Radbroke, Knutsford
The great thing about Barclays is that I get to work on great technological pieces, while seeing the effect they have on this important business.
Martin
Electronic Trading Technology – Prague, Czech Republic
Barclays' strong values of Service and Excellence are very much evident in the work we do. Our exciting tech solutions have improved customer and colleague experiences, and added huge value to the bank.
Ramya
Delivery Manager and Business Analyst – Pune, India
More about working at Barclays