Development and Engineering at Barclays
In Barclays Technology, we build solutions that make life simple for our customers. Solutions that are global, agile and smart. As a part of our team, you'll recode and reimagine, learn and adapt. Rewire what the world needs, and look ahead. This is where you can be at your best. Where you can redefine the future of finance.
Key information
Date live Jul. 27, 2021
Business Area COO & Functions
Area of Expertise Technology
Contract Permanent
Reference Code 90292387
Job description
DevOps Developer – Quantitative Prime Services
Whippany, NJ
As a Barclays' Java Developer you'll carry the responsibility for the provision of high quality, bespoke support of the Electronic Trading plant which underpins the Cash Equity and QPS (Quantitative Prime Services) businesses.  This role encompasses infrastructure architecture optimization, project management, capacity planning, KPI definition and tracking, and production environment support. The ideal candidate has experience in Site Reliability Engineering, and a strong knowledge of DevOps tools.
Barclays is one of the world's largest and most respected financial institutions, with 329 years of success, quality and innovation behind us. We've helped millions of individuals and businesses thrive, creating financial and digital solutions that the world now takes for granted. An important and growing presence in the USA, we offer careers providing endless opportunity.
What will you be doing?
You will modernize the production estate by introducing or expanding use of Kubernetes, Graphana, ITRS, and Kafka to automate production estate management and monitoring
You will work with development teams as a stakeholder or contributor to integrate software stack with new tools
You will develop specialist knowledge in relevant systems, sharing that knowledge, as required, with global teams
You will liaise with Business users and IT counterparts on potential process improvements and KPIs
You will liaise with development teams on future applications and improvements
You will pro-actively improve the quality of systems and service, and increase business value
You will undertake projects as required, including the following areas: capacity and performance management, monitoring initiatives, infrastructure upgrades, web based tools, and reporting.
What we're looking for:
Degree in an IT, Engineering or Mathematics-related discipline
Experience with Container management tools such as Docker/Kubernetes - capacity tracking and planning using tools such as Graphana
Bash/Python/Java programming experience
Exposure to Low Latency trading environments
Skills that will help you in the role:
Proven experience of Equities Electronic Trading in a related front-office application support role within investment banking
Strong knowledge of supporting applications on Unix platforms, fluent user of the command line
Exposure to network connectivity investigation and diagnostics using packet analyzers such as Wireshark
Experience of client and exchange connectivity platforms with exposure to exchange APIs and protocol
Where will you be working?
At Barclays, we are proud to be redefining the future of finance and here at Whippany we are defining the future of the workplace and the future of the way we work and live. We are creating a unique community, one of four strategic tech-enabled hubs that will redefine opportunity for everyone who works here.
Read more
What you get in return
However high you rise at Barclays, we believe all our employees should receive a competitive package of core benefits flexible to you and your family's needs. At Barclays, you'll support our customers and clients, and we'll support you with rewards that will genuinely make a difference.
Competitive holiday allowance
Competitive pay
Life assurance
Income protection
Private medical care
Flexible working
Pension contribution
Voluntary benefits
Where will you be located?
Success profile
To be successful in Barclays Technology, there are a few things we look for. Creativity, curiosity, and an excitement of what we can offer, and what you can do here.
Languages and Technologies
We really love to code. And we love to make that code work for our millions of global customers. Built in a way that makes life simpler. For you, that means reinventing what money means to the world. It means going that step further to develop something that can handle millions of trades or millions of transactions a day. It's a big responsibility. Are you ready to rethink your future?
Where do you want to take your tech career?
Financial services is going through a massive transformation, and here at Barclays we're leading the way. People are our greatest asset. And that's why we give our colleagues the opportunity and space to explore their ideas, and innovate on a global scale.
Find out more about what our leaders think the Barclays workforce of the future will look like.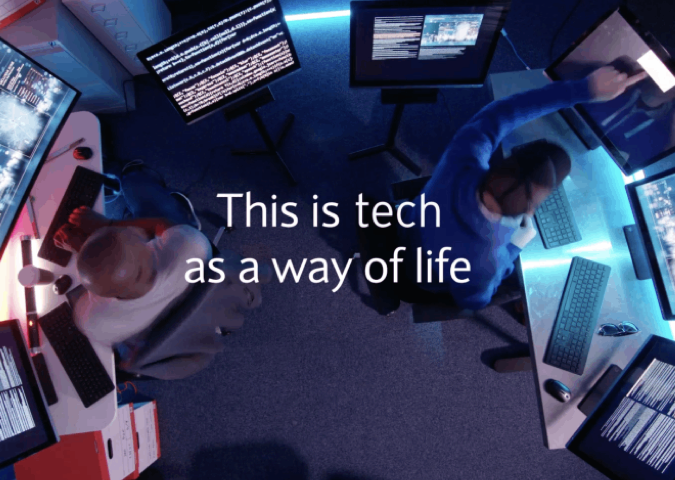 Play video
Working here makes me feel supported, valued, recognised, appreciated and has given me plenty of opportunities to grow.
Minal
ETL Developer in Market Risk, Glasgow
Barclays is a great place to work because the teams here have a very positive energy to them. There is a lot of camaraderie and team spirit here.
Niraj
Engineering Lead, Fraud Detection, Whippany
One of my favourite things about working for Barclays is the freedom to explore different technical solutions to a variety of problems. It's a great way of expanding my knowledge and keeps me on my toes!
Sara
Java Developer, Glasgow
I'm really pleased with the work I've done so far. Because Barclays relies on technology to provide services that are so important to millions of people, we value quality over quantity, especially in software design.
Dalibor
Wolf Team, Prague
More about working at Barclays