Development and Engineering at Barclays
In Barclays Technology, we build solutions that make life simple for our customers. Solutions that are global, agile and smart. As a part of our team, you'll recode and reimagine, learn and adapt. Rewire what the world needs, and look ahead. This is where you can be at your best. Where you can redefine the future of finance.
Key information
Date live Jul. 08, 2021
Business Area COO & Functions
Area of Expertise Technology
Contract Permanent
Reference Code 90275664
Job description
Senior Java Systems Analyst 
Whippany, NJ  
As a Barclays Senior Java Systems Analyst in the Risk, Finance and Treasury Technology team, you will be given an exciting opportunity to get exposure to many business deliverable projects in the Risk visualization pipelines. You will primarily work in Java performing functional and technical design as well as data modelling support for a risk and trading marking platform.  
Barclays is one of the world's largest and most respected financial institutions, with 329 years of success, quality and innovation behind us. We've helped millions of individuals and businesses thrive, creating financial and digital solutions that the world now takes for granted. An important and growing presence in the USA, we offer careers providing endless opportunity.
What will you be doing?
•    Liaising with Chief Operating Officer, Risk Manager, Quants and trading to collect functional requirements and perform analysis
•    Performing functional and technical design and data modelling based on user requirements, providing effort estimation and detail project plan
•    Designing/developing important service layer, integrate with front-end and various service components and tools into Risk Eco systems
•    Building/testing the approved design and creation of release notes for implementation into production in accordance with the agile best practices.
•    Working with run-the-bank organization and perform user training, documentation and production support for live systems
•    Evaluating new risk and trading technologies in the market
What we're looking for:
•    Sufficient experience working with Java and one of the industrial messaging technology platforms (Kafka, flume, Solace, TIBEMS, or MQ etc)
•    In depth knowledge and understanding of Multi-threaded, high throughput, low-latency design of Java service components
•    Deep understanding of Core Java and VM construction, GC and memory optimization.
•    Experience with Pl/Sql and Oracle or other commercial database and previous exposure to J2EE and other web application server platform or Spring micro services frameworks
Skills that will help you in the role:
•    Financial Industry experience and knowledge of derivatives product. 
•    Previous experience working with AWS or other cloud service platforms
•    Deep understanding of Big Data Technologies such as Hadoop, Hive, Hbase, and Spark 
•    Experience with Scala and Python
Where will you be working?
At Barclays, we are proud to be redefining the future of finance and here at Whippany we are defining the future of the workplace and the future of the way we work and live. We are creating a unique community, one of four strategic tech-enabled hubs that will redefine opportunity for everyone who works here. Whatever you do at Whippany, you'll have every chance to build a world-class career in this world-class environment.

Read more
What you get in return
However high you rise at Barclays, we believe all our employees should receive a competitive package of core benefits flexible to you and your family's needs. At Barclays, you'll support our customers and clients, and we'll support you with rewards that will genuinely make a difference.
Competitive holiday allowance
Competitive pay
Life assurance
Income protection
Private medical care
Flexible working
Pension contribution
Voluntary benefits
Where will you be located?
Success profile
To be successful in Barclays Technology, there are a few things we look for. Creativity, curiosity, and an excitement of what we can offer, and what you can do here.
Languages and Technologies
We really love to code. And we love to make that code work for our millions of global customers. Built in a way that makes life simpler. For you, that means reinventing what money means to the world. It means going that step further to develop something that can handle millions of trades or millions of transactions a day. It's a big responsibility. Are you ready to rethink your future?
Where do you want to take your tech career?
Financial services is going through a massive transformation, and here at Barclays we're leading the way. People are our greatest asset. And that's why we give our colleagues the opportunity and space to explore their ideas, and innovate on a global scale.
Find out more about what our leaders think the Barclays workforce of the future will look like.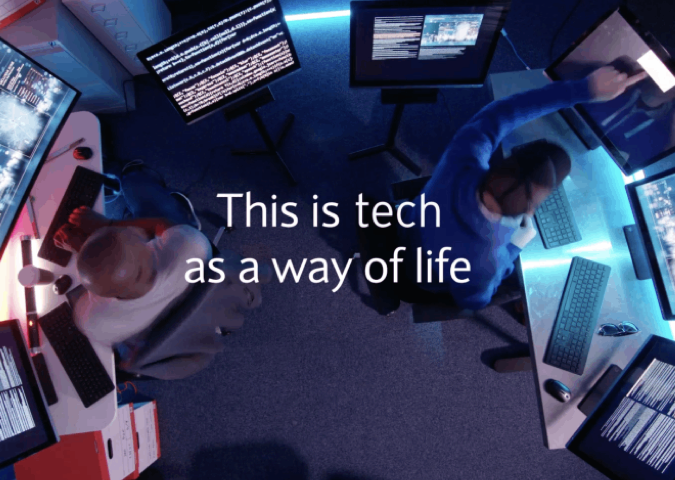 Play video
Working here makes me feel supported, valued, recognised, appreciated and has given me plenty of opportunities to grow.
Minal
ETL Developer in Market Risk, Glasgow
Barclays is a great place to work because the teams here have a very positive energy to them. There is a lot of camaraderie and team spirit here.
Niraj
Engineering Lead, Fraud Detection, Whippany
One of my favourite things about working for Barclays is the freedom to explore different technical solutions to a variety of problems. It's a great way of expanding my knowledge and keeps me on my toes!
Sara
Java Developer, Glasgow
I'm really pleased with the work I've done so far. Because Barclays relies on technology to provide services that are so important to millions of people, we value quality over quantity, especially in software design.
Dalibor
Wolf Team, Prague
More about working at Barclays