Explore our tech campus in Radbroke
The Barclays Technology Campus, just outside Manchester in the North of England, is our transatlantic tech command centre and one of the largest centres for information security in the UK. It's the vital strategic powerhouse behind our global operations.
Known as Radbroke, it's our 64 acre self-contained campus where 3500 technologists work every day. Our core banking platforms are run from here, and the work we do supports our transatlantic organisation and the lives of millions of customers and clients worldwide.
Set in a beautiful, green environment that blends with the surrounding countryside, Radbroke offers unrivalled facilities for work and for play – we have an onsite gym, as well as outdoor tennis, football and cricket areas. And of course, the food and drink is excellent. We believe in taking care of the people who do such important work here.
Work that really matters
That's because we're doing work that affects everyone. Work that protects £100s of billions of payments every day. That supports more than 120 million customer transactions every day. Here, we invest £100s of millions in developing new products and services. Here, we conceive of, design and develop the innovative technological solutions that protect our customers and lead the world in digital banking. Here, some of the best minds in the business are developing the technology that is changing an industry. Here, we are redefining the future of finance.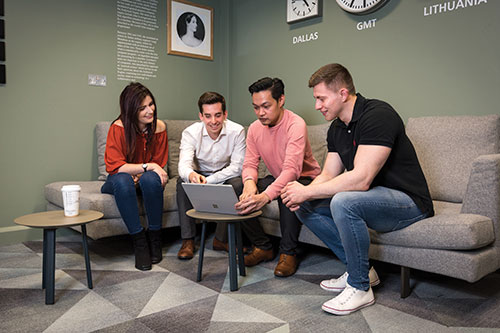 Imagination and innovation
Radbroke is a place where big ideas become world-leading realities. Where the best talent in the world can build careers full of scope, variety and reward, by creating the technical solutions that meet today's demands, answer tomorrow's questions and redefine the future of finance.
We're looking for creative, curious people who love a challenge and love to challenge. Commercial, customer-focused people who are agile and collaborative. People who can see the fine detail as well as the big picture. People who will live our values and take care of each other. People who are excited by what we can offer, and by what they can do here. People who will redefine the future of finance.